Ocean Park
Introducing Ocean Park (from Hong Kong Tourism Board & Official Website)
Opened in 1977, Ocean Park Hong Kong is a marine-life theme park featuring animal exhibits, thrill rides and shows. In 2012, its impressive ability to offer guests a world-class experience that blends entertainment with education and conservation was confirmed when the Ocean Park became the first Asian winner of the biannual Applause Award, the most prestigious award in the amusement and theme park industry. The Ocean Park is located on the southern side of Hong Kong Island, covering more than 915,000 square metres. The Waterfront and The Summit areas are connected by the Cable Car and Ocean Express funicular train.
Ocean Park Fast Facts
• Chinese Name: Hai Yang Gong Yuan 海洋公园
• Best Time to Visit: September to February
• Recommended Visiting Hours: 1 day
• Things to Do: Photography, Shows, Rides, Adventure
• Opening Hours: 10:00-18:00
• Entrance Fee: HK$498
• Address: Ocean Park Resort, Penny's Bay, Lantau Island, Hong Kong
What to expect at Ocean Park
Adventures in Australia
Adventures in Australia brings you on a quest to meet vibrant and captivating Australian animals in Hong Kong! Watch the furry koalas perching on branches and red-necked wallabies springing about, and don't miss the sweet serenade of the laughing kookaburras! Discover the rich history of Australia while discovering how you too can adopt a Lifestyle of Health and Sustainability (LOHAS).
Polar Adventure – Explore the North and South poles in one day
Polar Adventure lets you explore the North and South poles, from the exhilaration of a bobsled ride to the wonders of meeting king penguins up close. You'll also see long-tusked Pacific walruses, spotted seals, arctic foxes, snowy owls and other extraordinary animals. And when you need a break, Tuxedos Restaurant serves refreshments with a view of more than 70 penguins frolicking on the ice.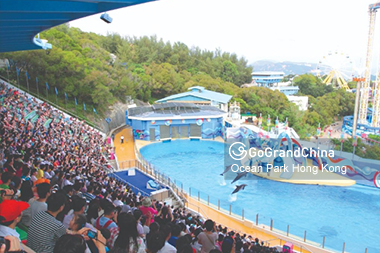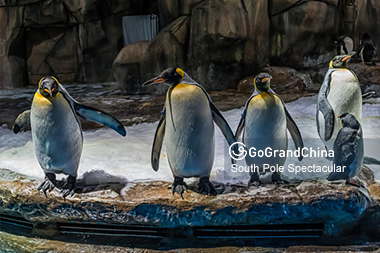 Amazing Asian Animals
At the Amazing Asian Animals exhibit you can visit some of Asia's rarest animals. Take an interactive journey of discovery at the Giant Panda Adventure where you'll get to know some of Asia's most precious native animals, including giant pandas, red pandas, Chinese giant salamanders and Chinese alligators. Admire the spectacular display of goldfish at the Goldfish Treasures exhibit, or visit the colourful birds and playful Asian small-clawed otters at Panda Village.
Other popular attractions include the Sea Jelly Spectacular, The Abyss turbo drop, the Mine Train roller coaster and the show at Ocean Theatre. During festive seasons, Ocean Park Hong Kong will organise special events such as Halloween Bash, Asia's biggest Halloween party, and Summer Splash water play activities. Ocean Park Hong Kong is committed to promoting and supporting animal conservation in Hong Kong and throughout Asia. Part of the proceeds from admission tickets and some retail items will go towards the Ocean Park Conservation Foundation Hong Kong to support wildlife conservation projects.
How to get to Ocean Park
• Take the MTR South Island Line and get off at Ocean Park Station for direct access to park entrance.
• Take bus 48 and get off at Ocean Park.
• Take bus 37B, 37X, 70, 72, 72A, 75, 77, 90, 96, 97, 99, 107, 171, 592, 671 or NWFB 38, 42, 42C, 590 and alight at Aberdeen Tunnel Toll Plaza.
• Take bus 6X, 73, 260, 973 or NWFB 65 and alight at Wong Chuk Hang San Wai.
• Rent a car/bus from GGC to enjoy a hassle free private transfer from hotels in Hong Kong to Ocean Park.
Additional travel advice on Ocean Park
• Due to repair, maintenance, weather or other considerations, the Park may temporarily suspend any rides or attractions without prior notice.
• Halal food, Indian food and vegetarian dishes are served in several restaurants and food kiosks in the Park to accommodate guests' special dietary requirements. Requests using certain ingredients will be accommodated upon advanced reservation.
• For same day re-entry, please have your hand stamped at the exit before leaving the Park. Upon presentation of your admission ticket and the hand stamp, our staff will assist you in returning to the Park within the Park's operating hours.
• Facilities which accept cash (in HKD, RMB and USD) include Ticketing Office, restaurants, souvenir shops and image galleries, food kiosks and mobile carts.
• Facilities which accept major credit cards (Visa, Master, American Express, JCB, and Union Pay) include Ticketing Office, restaurants, Souvenir shops and image galleries.
There are no products matching the selection.