Hong Kong Heritage Museum
Introducing Hong Kong Heritage Museum (from Hong Kong Tourism Board & official website)
Located within a wooded setting just out of view of Sha Tin's towering housing complexes, the Hong Kong Heritage Museum is patterned after the traditional si he yuan; a compound of harmoniously blended houses built around a central courtyard. The museum presents a unique mix of history, art and culture in a great variety of programmes that cater for the wide-ranging interests of the public.
Hong Kong Heritage Museum Fast Facts
• Chinese Name: Xiang Gang Wen Hua Bo Wu Guan 香港文化博物馆
• Best Time to Visit: September to February
• Recommended Visiting Hours: 2-3 hours
• Things to Do: Photography, History, Culture, Art
• Opening Hours: 10:00-18:00 on Monday, Wednesday to Friday; 10:00-17:00 on Saturday, Sunday & public holiday; 10:00-17:00 on Christmas Eve and Chinese New Year's Eve; Closed on Tuesdays (except public holidays) and the first two days of the Chinese New Year
• Entrance Fee: Free
• Address: 1 Man Lam Road, Sha Tin, Hong Kong
What to expect at Hong Kong Heritage Museum
Exhibitions
Featuring an exhibition area of some 7,500 square metres, the museum houses five permanent galleries - the Jin Yong Gallery, the Cantonese Opera Heritage Hall, the T.T. Tsui Gallery of Chinese Art, the Chao Shao-an Gallery and the Children's Discovery Gallery - as well as six thematic galleries that regularly host exhibitions showcasing the diverse treasures of Hong Kong heritage.
Chao Shao-an Gallery
The gallery features the works and materials related to Professor Chao Shao-an. The display includes works of flowers, birds, fish, animals, landscapes, and the setting of Lingnan Art Studio, to reflect the artistic exploration and influence of Professor Chao on the art scene.
The "Bruce Lee: Kung Fu‧Art‧Life" exhibition
Bruce LeeIn collaboration with the Bruce Lee Foundation in the United States, the Hong Kong Heritage Museum has organised an exhibition that looks at Bruce Lee as not only a film star and martial artist, but also cultural phenomenon. The exhibition has more than 600 invaluable items of Bruce Lee memorabilia provided by local and overseas collectors and organisations. Visitors will be able to gain a greater insight into his achievements and contributions as well as his significance in popular culture.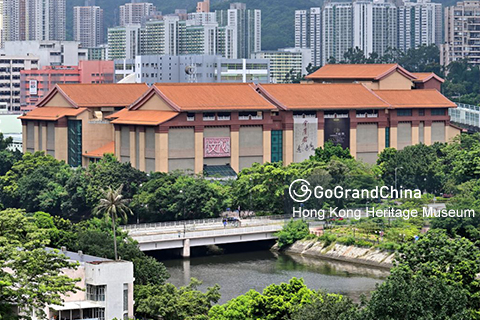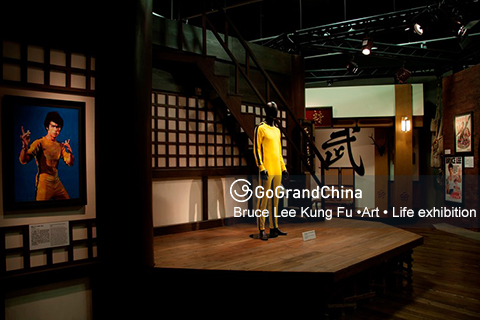 Collection
The Hong Kong Heritage Museum is committed to preserving and interpreting the cultural heritage of Hong Kong as well as to collecting a wide range of artifacts and works of art from the territory and neighbouring regions. The collection consists of history and art collections, each collection reflects the essence of Hong Kong's unique culture. History collection is categorized as Local History Relics, Performing Art Relics, Folk Art and Popular Culture artifacts; while art collection can be divided into three major areas such as Contemporary Art, Design and Chinese Fine Art (Chinese Paintings & Calligraphy and Chinese Antiquities).
How to get to Hong Kong Heritage Museum
• Take MTR Tuen Ma Line (Phase 1) to Che Kung Temple (Exit A) and then walk about 5 minutes to the museum.
• Take MTR East Rail Line to Sha Tin (Exit A) or Tai Wan (Exit A) and walk about 15 minutes to the museum.
• Take bus A41, E42, E42P, 72A, 86, 89, 282, 240X, 249X, N42, R42 or N271 to the Museum.
• Rent a car/bus from GGC to enjoy a hassle free private transfer from hotels in Hong Kong to Hong Kong Heritage Museum.
Additional travel advice on Hong Kong Heritage Museum
• Admission will be on a first-come, first-served basis and visitors flow will be limited in the museum.
• Children aged under 12 must be accompanied by an adult.
• Please do not use flash photography or tripods or record videos.
• To avoid accidents, please do not run or play inside the museum.
• Please keep quiet in the museum to help maintain a quiet and pleasant environment.
There are no products matching the selection.