Ngong Ping 360
Introducing Ngong Ping 360 (from Hong Kong Tourism Board & Official Website)
Ngong Ping 360 is the ideal springboard to exploring Lantau Island. Built with panoramic windows, the cabins of Ngong Ping Cable Cars offer stunning "360 degree" views. It was officially opened on 18 September 2006. Adopting a safe and reliable bi-cable ropeway, the cable car is first-of-its-kind in Hong Kong. It is a visually spectacular 5.7km journey, the longest bi-cable ropeway in Asia. The Crystal Cabin is believed to be the first-ever cable car system to adopt a full-width single piece of glass for a cabin bottom. The journey begins from Tung Chung, crossing Tung Chung Bay to reach the angle station on Airport Island and turning 60 degrees towards North Lantau. You will be greeted with the vistas of the distant and vast South China Sea and the rolling greens of North Lantau Country Park. At the comfort of the cabin, enjoy the breathtaking panorama of the Hong Kong International Airport, verdant, mountainous terrain of Lantau Island, the Big Buddha and the 360-degree view of Ngong Ping Plateau. Alight from the cable car cabin and you will arrive at Ngong Ping Village – the best starting point for your Hong Kong visit to "must-see" attractions such as the Big Buddha, Po Lin Monastery, Tai O fishing village, etc.
Ngong Ping 360 Fast Facts
• Chinese Name: Ang Ping 360 昂坪360
• Best Time to Visit: September to February
• Recommended Visiting Hours: 1 hour
• Things to Do: Photography, Nature, Panoramic View of Hong Kong
• Opening Hours: 10:00-18:00
• Entrance Fee: HK$ 235 for round trip cable (Standard Cabin); HK$ 315 for round trip cable (Crystal Cabin)
• Address: Ngong Ping, Lantau Island, Outlying Islands, Hong Kong
What to expect at Ngong Ping 360
The Ngong Ping 360 cable car ride is famed as one of the world's amazing cable car experiences. Get on cable for a perfect star of your Hong Kong day tour. Observe Lantau's Nature and native ecology, and experience the other side of Hong Kong.
Tung Chung
As soon as your cabin leaves the Tung Chung Cable car Terminal your will be treated with aerial view of the well-developed new town called Tung Chung which is part of the new development of Lantau North. Located in the northern Lantau and formerly known as "Tung Sai Chung", Tung Chung boasts a history of over a thousand years. It is one of the important passengers to Hong Kong because of its proximity to the Hong Kong International Airport.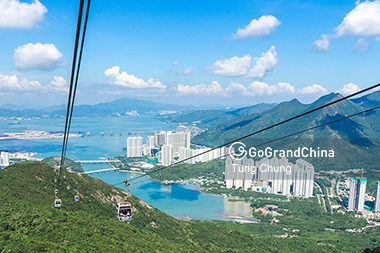 Tung Chung Bay
Looking down from your cable car, you will next see Tung Chung Bay, an amazing natural habitat for wildlife and a popular destination for fishing and clam digging. The bay is also home to the Shan Tau welands, which is listed as a Site of Special Scientific Interest. The unique combination of wetland with seagrass is rarely seen in Hong Kong.
Hong Kong International Airport
From the cable car cabin, you can see the entire Hong Kong International Airport from mid-air. You may even be "flying" with passing-by aircrafts! Connecting Hong Kong with over 220 destinations, the airport offers approximately, 1,100 flights daily. It is one of the largest airports in the world.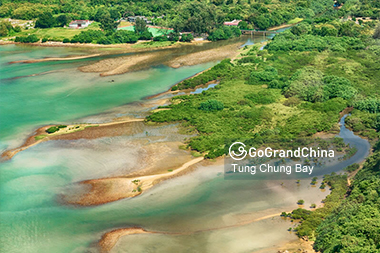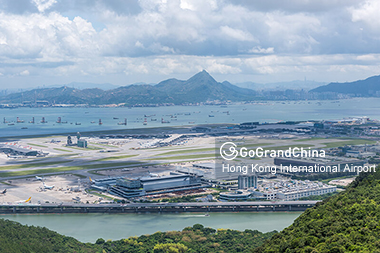 Hong Kong-Zhuhai-Macau Bridge
The distant view of the fifty-kilometers long Hong Kong-Zhuhai-Macau Bridge also comes with the stunning backdrop of the vast ocean and the blue sky. Connecting Lantau of Hong Kong, Macau Peninsula and Zhuhai in Guangdong province, the bridge comprises artificial islands and an undersea tunnel. Upon completion, it will become the world's longest six-lane during weekends.
Nei Lak Shan
Nei Lak Shan is Hong Kong's sixth tallest peak. At 751 metres above sea level, you can see the full view of the South China Sea and the Hong Kong-Zhuhai-Macau Bridge in the distance. When the sky is clear, you can even see Macau from here.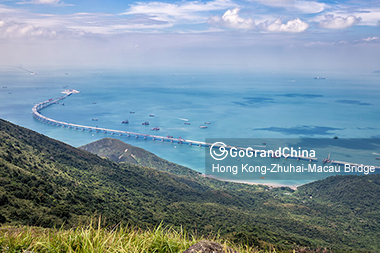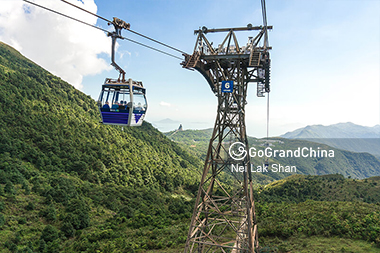 Tian Tan Buddha
Before your cable car reaches Ngong Ping, you will catch a glimpse of the world-famous Big Buddha surrounded by verdant, mountainous terrain. At 34 metres tall and weighing 250 tones, it is the world's second largest outdoor bronze Buddha statue.
Ngong Ping Village
Set on a scenic 1.5-hectare site on Lantau Island, Hong Kong and adjacent to Ngong Ping Cable Car Terminal, the Big Buddha and Po Lin Monastery, Ngong Ping Village is a culturally themed village designed and landscaped to integrate into the scenic nature of Ngong Ping. On top of shopping, dining and entertainment, this "must-see" Hong Kong attraction also boasts three themed attractions – "VR 360", "Motion 360" and "Walking with Buddha". There are also a few hiking trails of varying difficulty near Ngong Ping Village.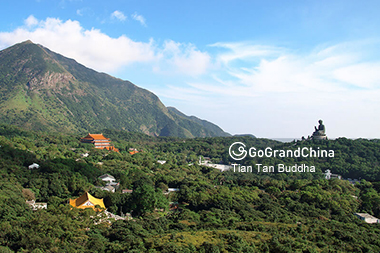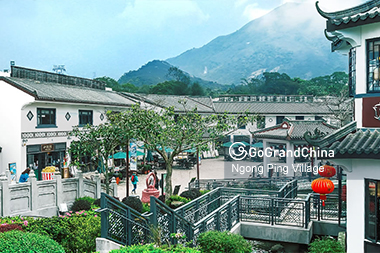 360 Sky-Land-Sea Day Pass
Venture out to the other parts of Lantau Island by taking a bus at Ngong Ping's Public Transport Interchange located conveniently right next to Ngong Ping Village. Ngong Ping 36's "360 Sky-Land-Sea Day Pass" comes with all transportation for your exploration of Lantau's aerial, land and water fun. Take the bus for an excursion to Tai O fishing village. From there, you can take a boat trip to see Hong Kong's unique stilt houses and Hong Kon's "pink" dolphins.
How to get to Ngong Ping 360
• Tung Chung Cable Car Terminal is 2-minute walk from MTR Tung Chung Station.
• Tung Chung Cable Car Terminal can be reached by New Lantau Bus 2, 21, 23 and 1R.
• Rent a car/bus from GGC to enjoy a hassle free private transfer from hotels in Hong Kong to Ngong Ping 360.
Additional travel advice on Ngong Ping 360
• The cable car is closed sometimes for maintenance, while the Ngong Ping Village remains open.
There are no products matching the selection.