A Symphony of Lights
Introducing A Symphony of Lights (from Hong Kong Tourism Board & Hong Kong Tourism Commission)
If you thought Victoria Harbour was a dazzling cityscape on its own, hang around for A Symphony of Lights; the nightly multimedia Symphony of Lights show, which involves more than 40 buildings on both sides of the harbour. Named the "World's Largest Permanent Light and Sound Show" by Guinness World Records, coloured lights, laser beams and searchlights perform in an unforgettable all-round spectacle synchronised to music and narration that celebrates the energy, spirit and diversity of Hong Kong.
A Symphony of Lights Fast Facts
• Chinese Name: Huan Cai Yong Xiang Jiang 幻彩咏香江
• Best Time to Visit: All year around
• Recommended Visiting Hours: Half an Hour
• Things to Do: Photography, Lights
• Opening Hours: 20:00 Daily (The show lasts for about 10 minutes)
• Entrance Fee: Free
• Address: Buildings on both Hong Kong Island and Kowloon, Hong Kong
Watch this video showcasing 'A Symphony of Lights' — National Day Edition 2020 Highlights
What to expect at A Symphony of Lights
Creative and Technical Show
"A Symphony of Lights" (SoL) has illuminated Hong Kong's skyline for the enjoyment of millions of tourists since 2004. This multi-media show has always been the signature icon for Hong Kong, symbolising its dynamic energy and contrasting culture. With more than 40 buildings and three attractions featured in this incarnation of SoL, this symphonic approach joins each participating building into a harmonious and complete canvas, working effortlessly together to the beat in unison. The city of Hong Kong is SoL's source of inspiration; the patterned symmetry of the skyline, modern metropolitan design, forested mountain terrain and expanse of the harbour, offer a truly all-encompassing visual and sound scape of the soul of Hong Kong. A myriad of searchlights, lasers, LED screens and lighting illuminate for this nightly spectacle that transforms the HK skyline into an outdoor audio visual feast for the senses. Audiences are taken on a journey through five main themes: Awakening, Energy, Heritage, Partnership, and the finale, Celebration.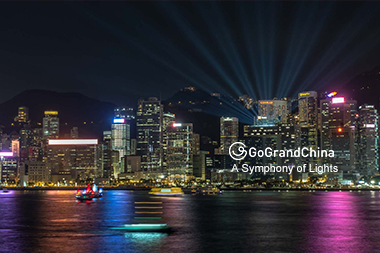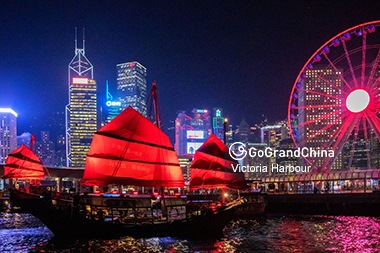 Music & Narration
To ensure that auditory harmony was achieved, Artists in Motion enlisted the help of Berlin-based composer Christian Steinhäuser, along with more than 100 musicians, including the Hong Kong Philharmonic Orchestra. The music is important to enhance the show and make sure the audience knows they are witnessing something special. SoL blended modern and classical elements to create a futuristic but emotional composition. These two elements complement the dynamism of Hong Kong and its culture perfectly. Visitors can listen to the Symphony of Lights show's music and narration live nightly at the Tsim Sha Tsui waterfront outside the Hong Kong Cultural Centre, and the promenade outside the Golden Bauhinia Square in Wan Chai. (Live narration is available in three languages: English on Mondays, Wednesdays and Fridays; Mandarin on Tuesdays, Thursdays and Saturdays; and Cantonese on Sundays.)
Where to watch A Symphony of Lights
• Tsim Sha Tsui Promenade
For front-row views of the show, head to the Tsim Sha Tsui waterfront outside the Hong Kong Cultural Centre and the Avenue of Stars. Owing to its prime location, it's also the most popular vantage so get there early to find a spot.
• Harbour cruise
Hop aboard one of the harbour cruises and sail into the middle of the cacophony of lights and music — some also serve food and drinks.
• The Legacy House, Rosewood Hong Kong
Rosewood's Cantonese restaurant affords enviable harbour views from its main dining room and seven private rooms.
• Felix, The Peninsula Hong Kong
Perched on the 28th floor of The Peninsula, the high-voltage, Philippe Starck-designed Felix is renowned for its dazzling harbour vistas.
• Central Harbourfront
You've watched the show from TST, now opt for a different angle (and fewer crowds) at Central Harbourfront and connecting Tamar Park.
• Golden Bauhinia Square
Home to the reunification monument — the Forever Blooming Bauhinia Sculpture — gifted by the Chinese government to mark the Handover in 1997, this pocket along Expo Promenade is also a top spot for admiring the harbour vistas.
How to get to A Symphony of Lights
• Take MTR Island Line to Wan Chai Station. Then walk about 15 mins to the Golden Bauhinia Square.
• Take MTR West Rail Line to East Tsim Sha Tsui Station or Tsuen Wan Line to Tsim Sha Tsui Station. Then walk to the Avenue of Stars
• Take the Star Ferry to Tsim Sha Tsui Ferry Pier.
• Rent a car/bus from GGC to enjoy a hassle free private transfer from hotels in Hong Kong to A Symphony of Lights.
Additional travel advice on A Symphony of Lights
• When Tropical Cyclone Warning Signal No.3 or above or Red/Black Rainstorm Warning Signal is issued at or after 3pm, the show will be cancelled. No show will be staged even if the signal is lowered before 8pm on the same day.
• The Show may also be suspended in emergencies without prior notice.
There are no products matching the selection.