Clock Tower
Introducing Clock Tower (from Hong Kong Tourism Board &Wikipedia)
The Clock Tower is a landmark in Hong Kong. It is located on the southern shore of Tsim Sha Tsui, Kowloon. It is the only remnant of the original site of the former Kowloon Station on the Kowloon-Canton Railway. Officially named Former Kowloon-Canton Railway Clock Tower, it is usually referred to as the Tsim Sha Tsui Clock Tower for its location. The tower has been listed as a declared monument in Hong Kong since 1990, surviving as an elegant reminder of the Age of Steam.
Clock Tower Fast Facts
• Chinese Name: Jian Sha Zui Zhong Lou 尖沙咀钟楼
• Best Time to Visit: September to February
• Recommended Visiting Hours: Half an hour
• Things to Do: Photography, History
• Opening Hours: All day
• Entrance Fee: Free
• Address: 10 Salisbury Road, Tsim Sha Tsui, Hong Kong
What to expect at Clock Tower
The Clock Tower faces towards the Victorian harbor. Originally settled with a big bronze bell, chiming every night to strike the hours which carries along several miles away, it has already become a sightseeing of Hong Kong. Built out of red bricks and granite, the Clock Tower peaks at 44 metres, and is topped by a 7-metre lightning rod. The top of the tower can be reached by a wooden staircase located within. The interior of Clock Tower had previously been open for the visit to enjoy the beautiful sightseeing of the city's harbor from the exquisite window. The clock tower is located near Victoria Harbour at the foot of Salisbury Road. Another landmark, the Tsim Sha Tsui Ferry Pier, is located nearby.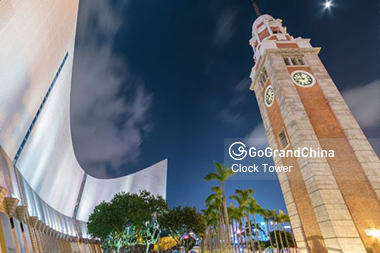 Hong Kong Pulse 3D Light Show
During the year, Hong Kong rolled out two rounds of the Hong Kong Pulse 3D Light Show, one during Hong Kong Summer Fun and the other during Hong Kong WinterFest. The performance was projected on the walls of the Hong Kong Cultural Centre and the Clock Tower, along with a dazzling display of lighting effects and 3D projection technology with music and sound effects, making the night view of Victoria Harbour even more spectacular.
How to get to Clock Tower
• Take MRT Tsuen Wan Line to Tsim Sha Tsui (Exit E), or West Rail Line to East Tsim Sha Tsui (Exit J).
• Rent a car/bus from GGC to enjoy a hassle free private transfer from hotels in Hong Kong to Clock Tower.
Additional travel advice on Clock Tower
• The Clock Tower is currently closed for maintenance.
• It is a good place to enjoy the annual fireworks displays host by Victoria Harbour on the second night of the Lunar New Year.
There are no products matching the selection.