Madame Tussauds Hong Kong
Introducing Madame Tussauds Hong Kong (from Hong Kong Tourism Board & official website)
Madame Tussauds Hong Kong is the first Madame Tussauds museums in Asia, the other being the Shanghai branch, which opened in 2006 and the third branch at Bangkok which opened in 2010. With over 100 incredibly life-like wax figures, Madame Tussauds Hong Kong delivers a fun and interactive celebrity experience in which everyone can either become a star, or just compare themselves to the real thing.
Madame Tussauds Hong Kong Fast Facts
• Chinese Name: Xiang Gang Du Sha Fu Ren La Xiang Guan 香港杜莎夫人蜡像馆
• Best Time to Visit: All year around
• Recommended Visiting Hours: 1-2 hours
• Things to Do: Photography, Wax Figures
• Opening Hours: 11:00-20:00
• Entrance Fee: HK$290
• Address: Shop P101, The Peak Tower, No. 128 Peak Road, The Peak, Hong Kong
What to expect at Madame Tussauds Hong Kong
History of Madame Tussauds
Millions and millions of people have flocked through the doors of Madame Tussauds since they first opened over 200 years ago and it remains just as popular as it ever was. There are many reasons for this enduring success, but at the heart of it all is good, old-fashioned curiosity. Today's visitors are sent on a unique, emotionally-charged journey through the realms of the powerful and famous. The museum-style ropes and poles have gone so guests can truly get up, close and personal with A-list celebrities, sporting legends, political heavyweights and historical icons, reliving the times, events and moments that made the world talk about them.
Madame Tussauds's history is a rich and fascinating one, with roots dating back to the Paris of 1770. It was here that Madame Tussaud learned to model wax likenesses under the tutelage of her mentor, Dr Philippe Curtius. At the age of 17, she became art tutor to King Louis XVI's sister at the Palace Of Versailles and then, during the French Revolution, was hastily forced to prove her allegiance to the feudalistic nobles by making the death masks of executed aristocrats. Madame Tussaud came to Britain in the early 19th century alongside a traveling exhibition of revolutionary relics and effigies of public heroes and rogues.
At a time when news was communicated largely by word of mouth, Madame Tussauds' exhibition was a kind of traveling newspaper, providing insight into global events and bringing the ordinary public face-to-face with the people in the headlines. Priceless artifacts from the French Revolution and Napoleonic Wars brought to vividly life events in Europe which had a direct bearing on everyday lives. Figures of leading statesmen and, in the Chamber of Horrors, notorious villains put faces to the names on everyone's lips and captured the public imagination. In 1835, Madame Tussauds' exhibition established a permanent base in London as the Baker Street Bazaar - visitors paid sixpence for the chance to meet the biggest names of the day. Madame Tussauds moved to its present site in Marylebone Road come 1884.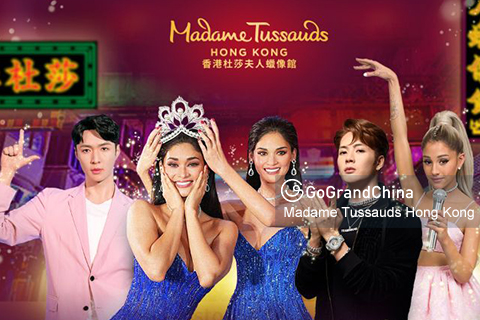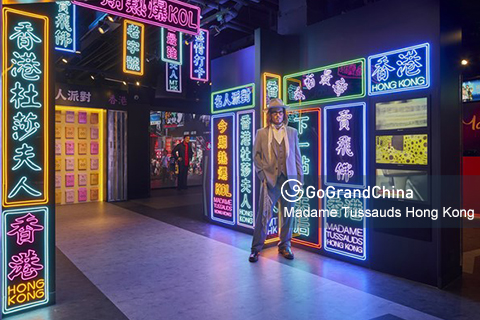 Features of Madame Tussauds Hong Kong
Located in The Peak Tower, guests can gawk at some of the world's most famous faces in 10 themed areas: Hong Kong Glamour, World Premiere, K-wave, Fashion, Music Icon, Kung Fu, The Champions, Animated World, Historical and National Heroes and Art Gallery.
Re-enact classic TV drama scenes with Kim Soo-hyun and immerse in K-pop culture at the all-new K-wave Zone, practise kung fu with Jackie Chan at the all-new Kung Fu Zone, pose with US President Barack Obama at the White House, feel Andy Lau's heartbeat, glam it up with Lady Gaga on stage, and step into Animated World – a world full of virtual characters and superheroes!
Complete the star-studded journey at the Madame Tussauds Hong Kong souvenir shop, which features a full range of souvenirs and gifts, from personalised wax hands, to mini look-alike figurines, 3D glass cubes and many more options.
How to get to Madame Tussauds Hong Kong
• Take MTR Tsuen Wan Line or Island Line to Central Station or Admiralty Station. Walk to Peak Tram Lower Terminus for the tram up to the Peak. Tram runs every day at Peak Tram Station, including Sundays and Public Holidays, between 7:00 am and 10:00 pm. The tram departs every 15-20 minutes.
• Take Bus 15 and get off at The Peak Station.
• Rent a car/bus from GGC to enjoy a hassle free private transfer from hotels in Hong Kong to Madame Tussauds Hong Kong.
Additional travel advice on Madame Tussauds Hong Kong
• Children aged under 12 must be accompanied by an adult.
• No food is allowed in the museum.
• Professional photographers are provided to take photos for visitors with the wax figures.
There are no products matching the selection.