Lan Kwai Fong
Introducing Lan Kwai Fong (from Hong Kong Tourism Board & Official Website)
Lan Kwai Fong is one of Hong Kong's most popular nightlife hot spots and home to over 90 restaurants and bars. The atmosphere ranges from stylish wine pairings to raucous jelly shots and the food on offer is as diverse as the clientele. Lan Kwai Fong's bar street began in 1970s. With the development of the road and the business investment in Lan Kwai Fong, businessman started to run their restaurants and clothing stores. Thanks to Hong Kong's dominance in Asian cinema, this centre of late-night revelry is so renowned that its official street sign is more photographed than many of the celebrities who haunt its clubs. Mostly, the area is crowded with foreigners or white-collars from the surrounding offices of Central, eager to shake off the working day or week. Get in the thick of it with a street side perch, or watch the antics on the road below from one of the upper floors. Lan Kwai Fong usually hosts carnivals and other celebrations during major festivals, such as Halloween, Christmas and New Year and has its own beer festival.
Lan Kwai Fong Fast Facts
• Chinese Name: Lan Gui Fang 兰桂坊
• Best Time to Visit: All year around
• Recommended Visiting Hours: 2-4 hours
• Things to Do: Photography, Bars, Clubs, Food
• Opening Hours: Closed during day time
• Entrance Fee: Free
• Address: Central, Hong Kong Island, Hong Kong
What to expect at Lan Kwai Fong
Everyone knows Lan Kwai Fong is Hong Kong's party district—with award-winning bars, incredible restaurants and amazing clubs all within a few streets. But there's even more to discover than the hottest bars, restaurants and parties; this neighbourhood has a little bit of everything, like unique art exhibits, awesome shopping and some incredible spas.
Art
Art is an intrinsic part of culture. It represents a place's past and can even help shape its future: if you really want to find the heart of a city, check out its galleries. In Lan Kwai Fong, you're spoiled for choice with so many interesting art galleries. Check out the latest emerging Chinese and Asian artists at Wellington Gallery, or head to the famous Opera Gallery for the best in international talents and collector's pieces.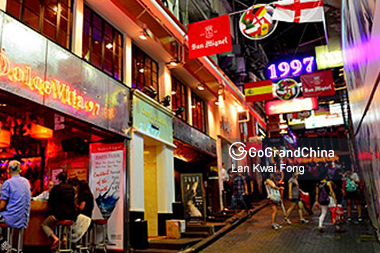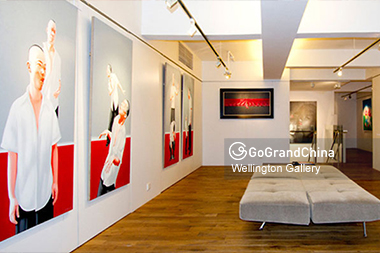 Dance
Hong Kong may be busy during the day, when everyone is putting in that hustle at work, but the city truly comes alive at night. This is a work-hard play hard city, and to get the true Hong Kong experience, you need a night out in Lan Kwai Fong. Lan Kwai Fong is home to some of the greatest clubs in Asia. From the legendary Dragon-I to newer favourites like Cé La Vi and Cassio, the scene is ever-changing with new additions (and amazing DJs) adding more spark to the city's skyline.
Drink
Lan Kwai Fong is home to some of the world's greatest speakeasies and cocktail bars. Whether you want to sip on a rare whiskey, a trendy cocktail or even just watch the game over a beer, there's plenty to be had—and new bars are always popping up. Employees Only is a firm favourite, this New York-powerhouse mixes up strong drinks and offers some of the best service in town. Just down the road, you can explore Hong Kong's largest gin collection at the hidden Dr. Fern's Gin Parlour, one of Hong Kong's (not so) hidden treasures. Don't forget to check out some happy hours for great value drinks! With all of these activities to cross off your list, you might be in need of a coffee hit. Not to worry, Coffee Academics is the perfect place to get your caffeine fix and keep your energy levels running high.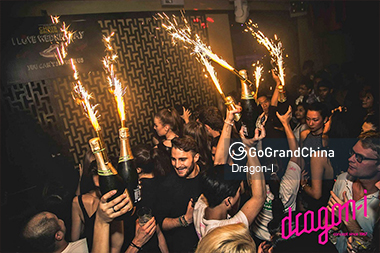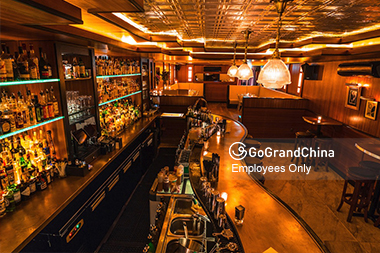 Eat
Lan Kwai Fong has some of the best local food around and amazing international options. Brickhouse is one of the many (many) restaurants we can't get enough of. This Mexican restaurant offers a laidback vibe with authentic cuisine and killer cocktails, and it's the perfect spot to satisfy your post-party cravings after a long night out. Not sure what you're craving? Just head to California Tower for some of the city's best nosh. Ciao Ciao is on the ground floor and makes post-or-pre-party-perfect Neapolitan pizzas. For the best burgers in town, hit up Beef & Liberty. Not only are they Michelin-recommended, this California Tower power-house has killer beats, a great terrace and they do weekend brunch. Looking for something lighter? Fumi has you covered – it's a modern Japanese restaurant with a beautiful interior and super fresh sushi.
Relax
Lan Kwai Fong is full of amazing spas and mindful oases. Book in a session at Flawless, they offer great facials, nail services and massage therapies – it's like a one-stop-shop for a better you. To get your good vibes back, head to Luxe Nova Lifestyle Studio for one of their singing bowl meditations. Singing bowls create a range of beautiful sounds that restore your body's natural frequencies and align your chakras.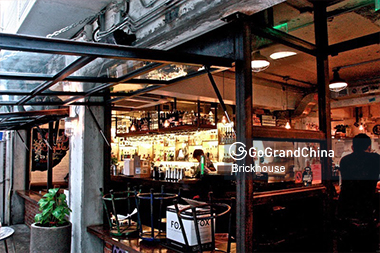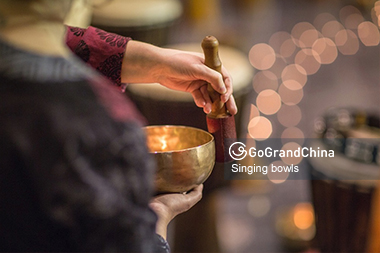 How to get to Lan Kwai Fong
• Take MTR Tsuen Wan Line or Island Line to Central (Exit D2). Then walk about 10 minutes to the Lan Kwai Fong.
• Take Bus 12, 12M, 13 or 40M to Lan Kwai Fong, D'Aguilar Street.
• Rent a car/bus from GGC to enjoy a hassle free private transfer from hotels in Hong Kong to Lan Kwai Fong.
Additional travel advice on Lan Kwai Fong
• The legal drinking age in Hong Kong is above 20. IDs might be checked in some bars and clubs as well as when purchasing alcohol at shops.
• Do not wear flip flops, sandals or open-toed shoes which are not allowed to enter the bars or clubs.
There are no products matching the selection.