Ladies' Market
Introducing Ladies' Market (from Hong Kong Tourism Board & Official Website)
With over 100 stalls of bargain clothing, accessories and souvenirs, the Ladies' Market on Tung Choi Street provides a one-kilometre stretch on which to practice your haggling skills. Ladies' Market gets its name from the huge amount of clothing and accessories on sale for women of all ages; however, with watches, cosmetics, bags, home furnishings, CDs and trinkets also up for grabs, you don't need to be just in the market for a pair of nylon stockings to find something within its crowded aisles. Diveded into four parts, Ladies' Market is one of the most famous shopping street in Hong Kong. Because of the good quality and low price of the goods here, many tourists come to go shopping on Ladies' Market when they are in Hong Kong.
Ladies' Market Fast Facts
• Chinese Name: Nu Ren Jie 女人街
• Best Time to Visit: September to February
• Recommended Visiting Hours: 2-3 hours
• Things to Do: Photography, Shopping, Food
• Opening Hours: All day; most stalls open around 10:00am to 11pm
• Entrance Fee: Free
• Address: Tung Choi Street, Mong Kok, Kowloon, Hong Kong
What to expect at Ladies' Market
Shopping In Ladie's Market
Ladies market has a huge range of stalls focusing on all types of goods. Ladies market has a huge range of stalls focusing on all types of goods. Don't miss the chance to buy discounted t-shirts and jeans as well as a wide range of bags, shoes and travel goods. Children's clothes, particularly baby outfits, ladies Lingerie, from sensible granny pants to lacy thongs, bags from cloth shopping bags to fake LV handbags, cosmetics, costume jewelry and unavoidably, touristy souvenirs like Chinese style cushions and table runners. Bargaining is the norm here so never accept the seller's first offer. If you prove yourself to be a steely haggler, you may even find yourself walking away with your objects of desire at 20 or 30 per cent of their original prices.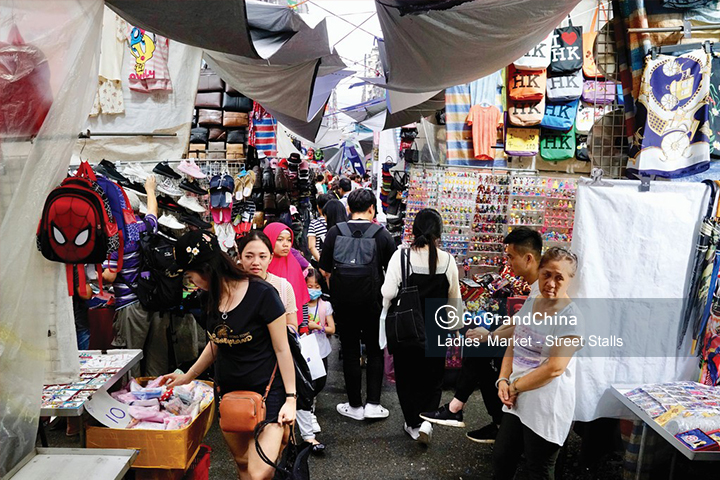 Whether you come to Ladies Market in Mong Kok to browse or to buy, for yourself or for the folks back home, don't forget that there are two major parts to the market.
Street Stalls: First and most obvious are the street stalls which line both sides of the street and turn it effectively into a pedestrian precinct even when officially cars are allowed. Officially it should be possible to drive down this street before 4pm on week days and before noon on weekends and public holidays. These street stalls are the most obvious part of the market and where a lot of the low cost items and excellent deals are to be found. Do remember though that even though these look like "stalls" the vendors are regular residents on these locations and are not hawkers. As such you should not expect to haggle or bargain on typical purchases.
Shops: The second area are the shops themselves that line the street and also offer a great range of items, but at a slightly higher scale. These shops are very varied and include those which seem to be little more than a market stall in a shop, to those which are full fledged boutiques. Higher rents paid but shop owners do force them to entertain a higher level of business which may mean higher prices, but also bigger choices and facilities. You won't find a changing room in a market stall for example, but full service boutiques will have this.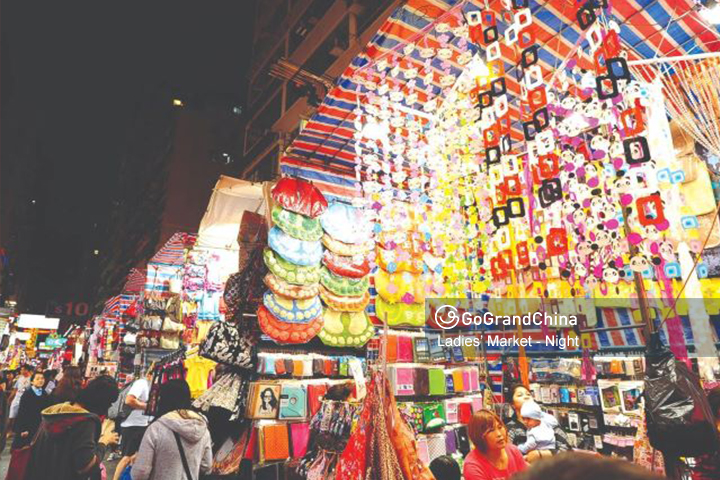 Food & Dinning
Mong Kok Ladies Market is not somewhere you go to eat as much but of course shopping makes a person hungry sometimes and you need to keep your energy level up. Get a quick snack from one of the small cafes along the side of the road to keep you going. There are some traditional Chinese snacks here and there such as bowls of Won Ton Noodles. There is also a KFC and a Seven Eleven near the Argyle Street end of the market which provides international style snacks and drinks. If you are visiting during the evening, which is a good time as the bright lights of the stalls do make a festival atmosphere, then consider dinner in one of the nearby Chinese restaurants. But do understand that they are mostly serving local Chinese customers and the waiters may not speak much English nor will they always have an English printed menu. It is often easiest therefore to go to the smaller Cafes which open onto the street as often these have photographs posted on the walls of their famous or specialty dishes.
How to get to Ladies' Market
• Take MTR Tsuen Wan Line or Kwun Tong Line to Mong Kok Station (Exit D3 or E2).
• Ladies' Market can be reached by GMB bus no. 5M, 12B, 27MS, 1A, 1, 12, 13d, 16, 37, 13D, N216, N293, 68X, 81, 95, 35A, 41A, 42A, 6C, 6F, 93K, 234P, 238P and 270P.
• Take GMB bus 5M and get off at Argyle Street, MTR Mong Kok Station.
• Rent a car/bus from GGC to enjoy a hassle free private transfer from hotels in Hong Kong to Ladies' Market.
Additional travel advice on Ladies' Market
• The Ladies Market is open every day of the year except the first day of the Chinese New Year.
• Temple Street Night Market is about 30 minutes walk south from the Ladies's Market, which starts later, and stays open later.
There are no products matching the selection.