Zoological and Botanical Gardens
Introducing Zoological and Botanical Gardens (from Hong Kong Tourism Board & official website)
The Hong Kong Zoological and Botanical Gardens is located on the northern slope of Victoria Peak with a highest point of 100 metres and a lowest point of 62 metres above sea level. It is the oldest park in the territory. Built in 1860 and partially opened in 1864, the Gardens was fully completed and opened to the public in 1871. Used to house an assemblage of native plants for collection and research in its early years, it had been known as the Botanic Gardens. Since 1876, the Gardens has been building its zoological collection comprising birds and mammals. In 1975, it was officially renamed as the Hong Kong Zoological and Botanical Gardens. The Gardens is also nicknamed by locals as "Bing Tau Fa Yuen" ("Bing Tau" means the head of soldiers and "Fa Yuen" means garden) because it was the site of the Government House from 1841 to 1842 and the Governor also served as the Commander-in-Chief of Hong Kong.
Zoological and Botanical Gardens Fast Facts
• Chinese Name: Xiang Gang Dong Zhi Wu Yuan 香港动植物公园
• Best Time to Visit: September to February
• Recommended Visiting Hours: 2-3 hours
• Things to Do: Photography, Plants, Animals, Hiking
• Opening Hours: 05:00-22:00 for Fountain Terrace Garden; 09:00-16:30 for Green House/ Education and Exhibition Centre; 06:00-19:00 for other areas
• Entrance Fee: Free
• Address: Albany Road, Central, Hong Kong
What to expect at Zoological and Botanical Gardens
Layout & Attractions
Zoological and Botanical Gardens, occupying an area of 5.6 hectares, is surrounded by Garden Road, Robinson Road, Glenealy and Upper Albert Road, and divided into the eastern and western parts by Albany Road. The two parts are connected by a pedestrian subway. The eastern part of the Garden is known as the Old Garden where a Children's Playground, Aviaries, Green House and a Fountain Terrace Garden are found. The New Zoological and Botanical Gardens in the west is mainly the home of mammals and reptiles. On top of the zoological and botanical attractions, visitors may also enjoy a stroll down the heritage trail to explore five special features of historical importance, namely the Stone Pillars, the Memorial Arch, the Bronze Statue of King George VI, the Pavilion and the Fountain, and savour the stories of the Gardens.
Plants
There are more than 900 species in the Garden planted in such a way as to achieve natural beauty. Most of them are indigenous to tropical and sub-tropical regions. A Herb Garden is located in the southern corner of the Garden and the shrub collection is mainly centralised at the Fountain Terrace Garden where a regular display of colourful blooms is maintained. A Greenhouse standing at the eastern boundary houses over 150 native and exotic species including orchids, ferns, bromeliads, climbers and house plants etc.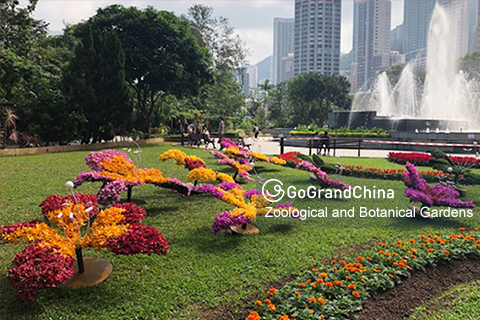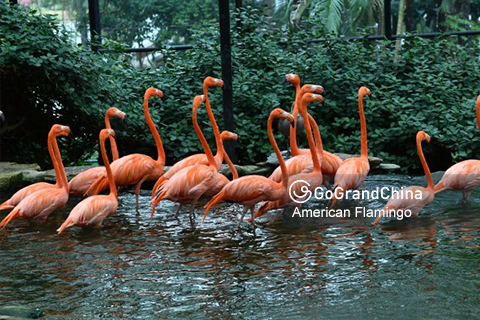 Animals
The keeping of wild animal exhibits in the Hong Kong Zoological and Botanical Gardens can be traced as early as in 1876. At that time, birds and mammals were kept in small numbers in very primitive structures purely for entertainment purposes. At present, about half of the Garden's land is dedicated to the keeping of zoological exhibits. About 160 birds, 70 mammals and 30 reptiles are being housed in about 40 enclosures.
Activities
The HKZBG is probably the best equipped garden in Hong Kong to undertake a wide array of teaching on zoo and horticulture education. This is because of the comprehensive and fully documented zoological and botanical collections it houses. Through its continuous education programme, the Garden provides guided visits for more than 10,000 school children every year. The main objective of the zoo and horticulture education programme is to promote the role of the HKZBG and an understanding of animals, plants, conservation, biodiversity and environmental issues both through formal education programmes and informal interpretation of the collections.
How to get to Zoological and Botanical Gardens
• Take MTR Island Line or Tsuen Wan Line to Central. Then walk about 10mins to get the park.
• Zoological and Botanical Gardens can be reached by bus 12, 12A, 12M, 13, 23, 23B, 40, 40M, 103 or mini bus 1A, 22, 22S, 28.
• Rent a car/bus from GGC to enjoy a hassle free private transfer from hotels in Hong Kong to Zoological and Botanical Gardens.
Additional travel advice on Zoological and Botanical Gardens
• Do not tease or feed animals in the zoo.
• Do not pick flowers or trample on the lawn.
There are no products matching the selection.