Jade Emperor Pavilion
Introducing Jade Emperor Pavilion (from CITS)
According to historical records, Jade Emperor Pavilion was built during the reign of Emperor Hongwu in Ming Dynasty, with a history of 600 years. It is one of the most important historical relics of Ningxia Hui Autonomous Region. Jade Emperor Pavilion is the only existing ancient wooden pavilion of Yinchuan city. Now it is one of cultural relic sites under provincial protection of the Ningxia.
Jade Emperor Pavilion Fast Facts
• Chinese Name: Yu Huang Ge 玉皇阁
• Best Time to Visit: April to October
• Recommended Visiting Hours: 1 hour
• Things to Do: Photography, Architecture, Taoism
• Opening Hours: 09:00-17:00
• Entrance Fee: Free
• Address: No.2 Yuhuangge North Street, Xingqing District, Yinchuan, Ningxia Hui Autonomous Region
What to expect at Jade Emperor Pavilion
Jade Emperor Pavilion is a traditional wooden building with compact construction and refined technical art. It is of high value for the studies of the constructions of early Ming Dynasty on the arts and crafts skills. The main loft of Jade Emperor Pavilion is a two-story attic about 22.1 meters high. The foundation is a rectangular platform, 19 meters high, 37.6 meters long in the southeast direction and 25 meters wide in the northwest direction. Jade Emperor Pavilion gets this name for it houses a statue of Jade Emperor. Some mini exhibitions of art, calligraphy and relics are often held there.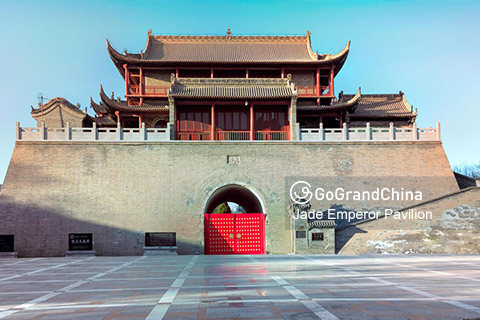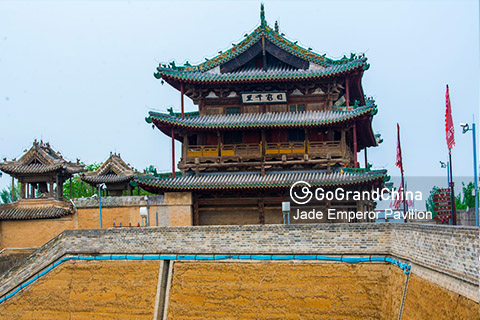 How to get to Jade Emperor Pavilion
• Take Bus 22, 28, 29, 43, 45 or 311 and get off at Yuhuangge Bei Station.
• Take Bus 1,11,12 or 34 and get off at Gulou Station.
• Rent a car/bus from GGC to enjoy a hassle free private transfer from hotels in Yinchuan to Jade Emperor Pavilion.
Additional travel advice on Jade Emperor Pavilion
• There are performances in front of the pavilion in the evening.
There are no products matching the selection.