Helanshan Rock Carvings
Introducing Helanshan Rock Carvings (from Wikipedia & China Culture)
Rock Paintings of Helan Mountains also known as Helanshan Rock Art, are images carved into the rocks of Helan Mountains, Ningxia. Helanshan Rock Art is representative of rock paintings in northern China, with rich and concentrated subject matter. As of December 2020, tens of thousands of petroglyphs have been discovered, and they were created between 10,000 and 3,000 years ago. In 1996, Helanshan Rock Art was included in the third batch of the list of Major Historical and Cultural Site Protected at the National Level in China. In 1997, it was inscribed on the Unofficial List of World Cultural Heritage by the International Petroglyph Committee of UNESCO
Helanshan Rock Carvings Fast Facts
• Chinese Name: He Lan Shan Yan Hua 贺兰山岩画
• Best Time to Visit: April to October
• Recommended Visiting Hours: 2 hours
• Things to Do: Photography, Rock Art, Chinese History & Culture
• Opening Hours: 08:00-18:30 from Apr to Oct; 09:00-17:30 from Nov to Mar
• Entrance Fee: CNY 70
• Address: Helan County, Yinchuan, Ningxia Hui Autonomous Region
What to expect at Helanshan Rock Carvings
The creation periods of Helanshan Rock Art can be roughly divided into three stages, the first stage is the Neolithic, the second stage is from the Qin Dynasty to the Northern and Southern dynasties, and the third stage is from the Sui Dynasty to the Western Xia. Of all the carvings, a great number are images of human faces, handprints, and hunting, and offering sacrifice. Among the animal paintings, there are running deer, blue sheep, tigers and leopards, duckbills, and flying birds. The artistic style of these rock carvings is wild and dense and thick, in simple design conceiving a unique artistic conception and value. They provide valuable materials for the study of the ways of life, ideas of religion, and war, farming and husbandry, hunting, and astronomy of various ethnic minority groups in ancient China.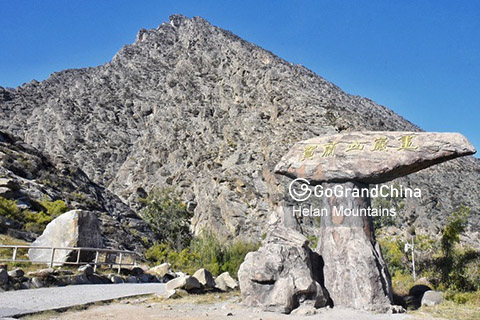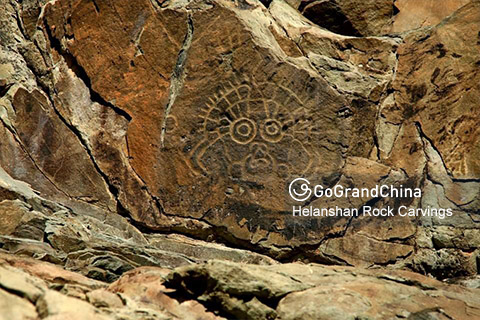 How to get to Helanshan Rock Carvings
• Take Tourism Line 2 to Helanshan Yanhua Station. Then walk around 200m to the scenic area.
• Rent a car/bus from GGC to enjoy a hassle free private transfer from hotels in Yinchuan to Helanshan Rock Carvings.
Additional travel advice on Helanshan Rock Carvings
• Please wear comfortable walking shoes.
• It is recommended to prepare a telescope for better seeing the rock carvings.
There are no products matching the selection.