Balagezong Scenic Area
Introducing Balagezong Scenic Area (from China.org.cn & Tibet.cn & official websitel)
Balagezong, located in the area of alpine vegetation and mountain gorge on the Qinghai-Tibet Plateau, is a natural ecological tourism spot. Balagozong National Scenic Area is one of the core scenic spots of Hongshan District, a world natural heritage with three rivers running side by side. Known as Shangri-La's "small Jiangnan", was constructed in 1999 and started trail operations in 2007. It covers an area of 176 square kilometers. Sightseeing in the area features ancient tribes, pagodas, snow-capped peaks, grand canyons, pastures, rivers, glass plank roads, pristine lakes, and azaleas. The place also owns a long history and countless legends. Coexistence of various religious cultures and attractive ancient historical relics are formed the "Shangri-La" mood which is exactly the harmony between human and nature.
Balagezong Scenic Area Fast Facts
• Chinese Name: Ba La Ge Zong 巴拉格宗
• Best Time to Visit: May to Nov
• Recommended Visiting Hours: 1 day
• Things to Do: Photography, Nature, Adventure, Hiking
• Opening Hours: All day
• Entrance Fee: CNY 110; CNY 60 for sightseeing bus
• Address: 226 Kangzhu Avenue, Shangri-La, Diqing Tibetan Autonomous Prefecture, Yunnan
What to expect at Balagezong Scenic Area
Balagozong National Scenic Area is a mixture of all of the geographical features of the Grand Shangri-la. From snow-capped sacred mountains to highland prairies, from verdant vegetation to U-shaped canyons, it provides tourists with a complete picture of Shangri-la. The scenic spots of Balagezong are divided into natural ecological tourism resources and human tourism resources, attracting tourists with its miracle, excellence and beauty.
Gezong Snow Mountain
The Gezong Snow Mountain is 5,545 meters and is covered with snow all the year round. It is the highest mountain in Shangri-La. And it is one of the three holy mountains of Kangba region. As the Buddhists regard Gezong Snow Mountain as a holy land, many devotees every year come here to worship the mountain. At the foot of the mountains, there are choppy rivers and abrupt gorge and cliffs. In the middle of the mountain, tourists could find lush primeval forests, various kinds of birds and animals, exotic flowers, precious endangered species and rare Chinese medicinal herbs.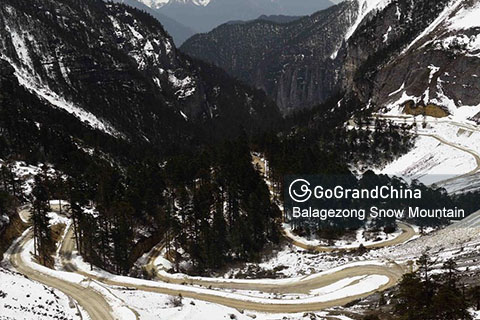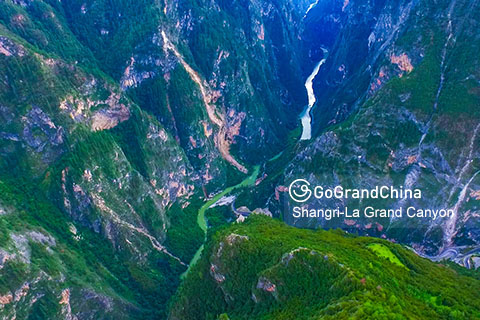 The Grand Canyon
The Shangri-La Grand Canyon located in Balagezong is a unique work of nature. From the peak with an elevation of 5,545 meters to the valley of 2,000 meters, the elevation difference creates a vast canyon of 3,545 meters. Most of the cliffs on both sides of the canyon are as high as 1,000-2,000 meters, and the texture and shape of the geological strata seem like huge landscape rock paintings on the cliffs. The high cliffs are decorated by rocks, pines, yew trees and other species, forming a natural gallery. The clear and beautiful rivers meandering in the canyon splash water like fog, and only a frontline blue sky could be seen from the cracks of some steep cliffs. Sounds of the echo can be heard. A 1106m long cliffside glass walkway was built to provide tourists exciting experices with a vertical drop of 700 m and clouds drifting from the feet. A tributary of the Jinsha River runs past the foot Gezong snow mountain, where the weather is usually hot and you can have a raft ride in the canyon.
Bala Village
Surrounded by mountains, Bala Village is a 1,300-year village. "Bala" mean a Tibetan village migrated from Batang in Tibetan language. The villagers are allegedly offsprings of a Tibetan tribe in the Bayang area of Sichuan Province, according to a Tibetan legend. The tribe leader is said to have fed up with fighting and moved to the village area to build a new home. In the past millennium, the village was cut off from the outside world by high mountains. Now the Balagezong area makes an ideal spot to experience vertical changes in weather, topography and plants distribution. In the Bala village which lies at a mountain waist but is surrounded by other highrises, the weather is cool and in summer and you can enjoy a leisure and idyllic life style with ancient Tibetan flavor.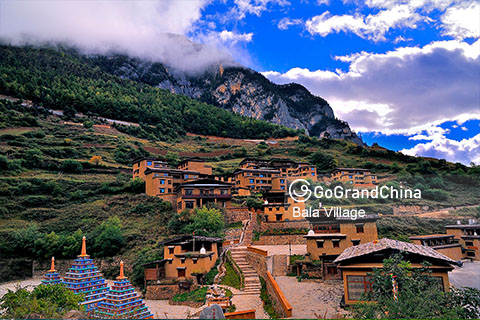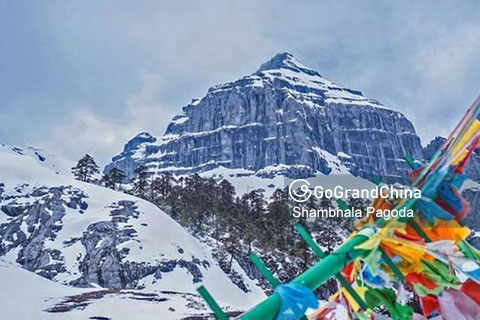 Shambhala Pagoda
After tens of road turns on a bus, you will reach at an elevation of around 4,200 meter, where the Shambhala Pagoda lies. The Pagoda, a nature-shaped holy peak recorded in Tibetan Buddhism scripture, stands in the northeast of Gezong Snow Mountain. Natural formed pyramid peak wears snow towering standing in the sky, like sitting lama chanting and the opening scripture. This pagoda, scripture and old lama three mountains are known as triratna "the Buddha, Dhamma, and Sangha" visually.
Balagezhong Music Festival
Annual music festival has been staged in Balagezong since May 1, 2016. This is a real snow mountain music festival in the world, under the snow mountain, in the canyon and by the Gangqu River. With the theme of "World's Shangri-La, Magical Balagezong," the 4th festival in 2019 marks a step forward for the scenic area to fuse culture into tourism.
How to get to Balagezong Scenic Area
• Balagezong Scenic Area is approximately 80 km away from Shangri-La.
• Take a tourist bus from Dukezong Ancient Town to the Tourist Center of Balagozong Scenic Area (Shangri-La Great Canyon).
• Rent a car/bus from GGC to enjoy a hassle free private transfer from hotels in Shangri-La to Balagezong Scenic Area.
Additional travel advice on Balagezong Scenic Area
• With an average elevation over 3,300 meters, a mild altitude sickness in Shangri-La is quite common. Avoid strenuous activity, and better drink more water. Prepare AMS medication, in accordance with a doctor's advice.
• It is cold and windy on the top of the mountain. Please prepare warm jackets and comfortable hiking shoes.
There are no products matching the selection.