Yellow Crane Tower
Introducing Yellow Crane Tower (from Wikipedia & Chinadaily)
Yellow Crane Tower is a traditional Chinese tower located on Sheshan(Snake Hill) in Wuhan, Hubei Province. Enjoying the fame of 'The First Scenery under Heaven', it is one of the most renowned towers south of the Yangtze River and one of the Four Great Towers of China. Its cultural significance led to its being made the symbol of Wuhan City. Tourists can obtain a fine view of the Yangtze River from the top of the tower. Notwithstanding the tower's current location on Snake Hill being unrelated to its original location one kilometre away, the two popular legends related to it invoke the hill. In the first, an Immortal named Wang Zi'an rode away from Snake Mountain on a yellow crane and a tower was later built in commemoration of this story. In the second legend, Fei Yi becomes immortal and rides a yellow crane, often stopping on Snake Hill to take a rest. Throughout history, poets, writers and artists have travelled to the tower for inspiration, including Cui Hao, Li Bai, Bai Juyi, Yang Shen and Zhang Juzheng. Cui Hao's famous poem about the tower is said to be one of the greatest works in the Chinese poetic canon.
Yellow Crane Tower Fast Facts
• Chinese Name: Huang He Lou 黄鹤楼
• Best Time to Visit: Mar to Apr, Sep to Oct
• Recommended Visiting Hours: 1 hour
• Things to Do: Photography, History, Culture
• Opening Hours: 08:30 - 18:00
• Entrance Fee: CNY 70
• Address: No.1 West of Snake Hill, Wuchang district, Wuhan, Hubei Province
What to expect at Yellow Crane Tower
Yellow Crane Tower
The Yuanhe Maps and Records of Prefectures and Counties, written almost 600 years after the construction of the tower, notes that after Sun Quan, founder of the kingdom of Eastern Wu, built the fort of Xiakou in 223, a tower was constructed at/on the Yellow Crane Jetty, west of Xiakou, and hence its name. The tower has been destroyed twelve times, both by warfare and by fire. The current structure was built in 1981. The current Yellow Crane Tower is 51.4 m (169 ft) high and covers an area of 3,219 m2 (34,650 sq ft). With yellow upturned eaves, each floor seems to have been designed to resemble a yellow crane spreading its wings to fly. The top of the tower has a broad view of its surroundings and the Yangtze River. In its modern version, it has the appearance of an ancient tower but is built of modern materials, including an elevator. Each level has its own display.
The Sacred Stupa
The Sacred Stupa is also called White Stupa or White Stupa of Yuan Dynasty. It is 9.36 meters high and 5.68 meters wide. It is built with external stone and internal bricks, mainly stone masonry, and a small amount of bricks are used in the internal tower room. It is the oldest and most complete single building preserved in the former site of the Yellow Crane Tower. The Sacred Stupa is a Stupa of Tibetan Buddhism Tantric Buddhism, and it is also the first type of stupa after Buddhism inherited from India to China. It is the only existing Lama-style white stupa in Wuhan, and it provides important physical materials for studying the history and religion of the famous historical and cultural city Wuhan in the late Yuan and early Ming Dynasties.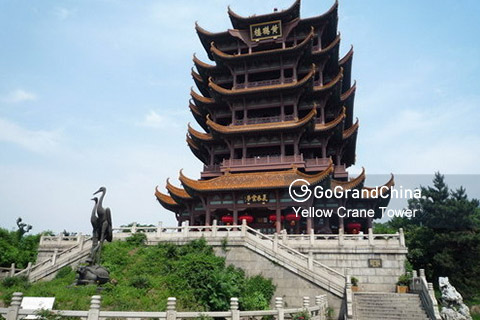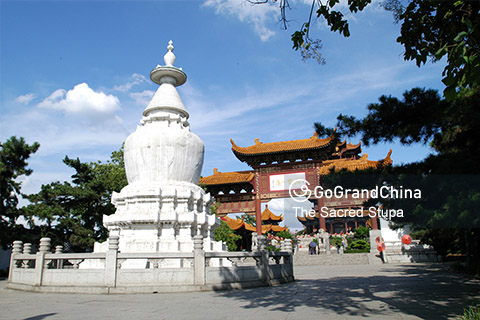 Other attractions
The tower is also a sacred site of Taoism. Lü Dongbin is said to ascend to heaven from here. There is a small cave in the hill beneath the tower with Lü Dongbin statue. The cave is been called Lü Zu Dong, literately means cave of Lü Dongbin. At south side of the tower, there is an 8-meter-high statue of General Yue Fei because he was garrison around this area in Song Dynasty. To the east on the hill, a large temple bell may be rung by tourists for a small fee. There are court dances in the western yard during the week-long National Day of the People's Republic of China celebration.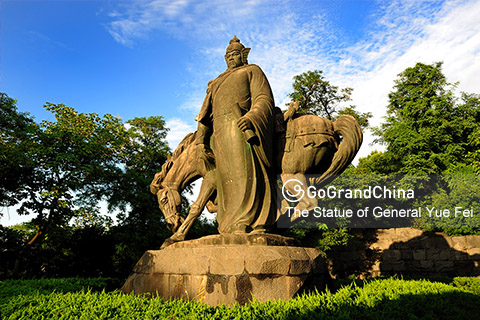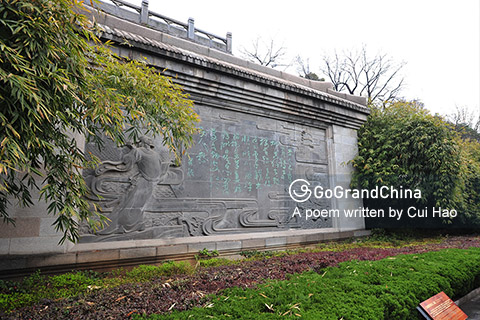 How to get to Yellow Crane Tower
• Take bus 10, 61, 401, 402, YX10, Trolleybus 1, 4, or 7 to Huanghelou.
• Rent a car/bus from GGC to enjoy a hassle free private transfer from hotels in Wuhan to Yellow Crane Tower.
Additional travel advice on Yellow Crane Tower
• Please take care of the entrance ticket. It will be checked again if you want to ascend the tower.
There are no products matching the selection.